If you like living with pets around ... why deprive yourself of their company while cruising?
It is entirely feasible to cruise around the world with pets aboard, especially dogs and cats ... perhaps not so
easy with birds, reptiles or monkeys! We are cruising full time since 1992, having visited most islands from
Florida to the Southern Caribbean (via the Windward and Leeward chains), we just completed a full South
Pacific cruise and are now cruising SE Asia and had VERY FEW difficulties or limitations due to our dogs! In
2015, we flew 2 puppies Schipperke from California to the Philippines with few difficulties. And at the end of
2016, we had 3 puppies so we temporarily cruised the Philippines with 5 Schipperke aboard!
But before speaking about any negative aspects, let's think about the advantages of cruising with dogs!
Think of them as the best alarm system and the best deterrent against petty thievery! That is if you keep
them outside and not sleeping inside! In any anchorage where we might be visited during the day, the dogs
are on deck and bark when anyone or anything is approaching us ... a canoe, a swimmer, a floating debris,
another yacht dragging, ... At night, they always sleep outside (we have a permanent doghouse for them).
Not surprisingly, we heard of boats being boarded and burglarized in the same anchorages where we had
no problems. In places with poor reputation, we make sure our dogs are seen and heard right away!
Whenever we take our dogs ashore, they act as great ice-breakers with the natives (like cruising kids do
too!). Local people are always curious about these uncommon dogs and local kids are ecstatic when we get
our Schipperke to perform any tricks and obedience games.
Let's not forget their great company at anchor, on passage (they can keep you awake on night watch -
especially the dog watch!), they are fun to come with you on hikes, ...
The best is to get a puppy when you move aboard as it will be much
easier to train him for the life aboard a sailing vessel than train an
older animal that has habits well ingrained. Each dog we had joined us
when he was about 3 month old (other than the 3 born aboard!). The
first thing is to carpet train them so they lift their leg where you want
them to. We place 2 pieces of green astroturf (24"x14") by the 2 short
sides on our back deck. These can easily be washed with a bucket of
sea water or let in the sea attached with a string. we also use a small
tray in a box in the cockpit for the puppies we don't trust yet to roam
freely on deck, that we empty overboard and wash easily.
If you train your dog to a carpet rather than a specific area, you can move the carpet to another area if
needed, or to a new boat, or even ashore. We have a special carpet we put in our cockpit when the seas
are too rough for our dogs to go on the back deck. (check the videos for details).
To feed your pets won't be any more difficult than on land. Between special animal food and table leftovers,
you won't have any problems feeding them. Make sure to have water dishes available as they will drink
more water in warm wx.
Heath wise, your pets will benefit like you from the great cruising lifestyle. You will be able
to find veterinarians in most places to get the annual shots and any medical visit. Make
sure you get a micro-chip implanted in your dog or cat as many countries will need animal
identification. Alternatively an ID tattoo is often accepted. If you plan to visit a new
country, it might be good to have a recent international health certificate when you arrive
in that country.
The biggest question and fear future cruisers have about traveling with pets has to do with
quarantine regulations and restrictions around the world. When you look at the official
websites of most countries quarantine services, it sounds so regulated, complicated and
expensive ... they do a good job at scaring you as often officialdom does! In reality, in most
countries, things are generally much easier ...
In our experience, we have encountered the following attitudes regarding our pets:
1> no restrictions at all, no enforced regulations, our dogs could freely go ashore
2> after a gvt vet's visit aboard to examine the dogs and their paperwork, the dogs were free to go ashore
3> our dogs could not go ashore and had to be confined aboard for the duration of our visit
4> animals could only go ashore after a mandatory quarantine was made at an official facility ashore
In the Caribbean, all the countries visited were in categories 1,2 or 3
In the South Pacific, only New Zealand, New Caledonia and Australia impose a quarantine. We decided to
not sail to NZ or Australia as quarantine regulations are strict, expensive and a pain ... but many cruiser
friends did go there and complied with all the rules ... so it is an option. The quarantine in New Caledonia is
only 5 days long and cost about US$150 .. if you stay less than 2 months, you can choose to keep your pet
aboard without shore privileges ... a much more sensible attitude (as often the case in French territories)!
Breading small dogs on a multihull ... not as crazy it might seem !
What a joy to take care of puppies from their birth and train to be
great crew!
Admittedly it is easier when cruising on a spacious vessel!
We keep one of our 2 cockpits for the puppies: they have a kennel, a
piece of astroturf in a tray (easy to dispose & clean) and room to play.
We train them on the deck since they are over 2 months old: 40min a
day,

come, sit, lie down, no, stay, know where you can go or not,
swim to the ladder, climb the swim ladder, ... We take them to
frequent trip ashore, meeting people and other animals ....
GETTING YOUR OWN SCHIPPERKE PUPPY ...
Get your new pyppy from someone who loves the breed (not a puppy
mill!) ... someone who spends time to raise the puppies well until you
get them ... You want a healthy and socially developped puppy ..
happy to have new adventures with you!
CHECK HERE if you like to get a puppy from us NOW or SOON :)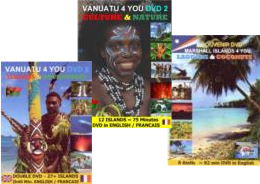 Zoetje
was born in California in 94' and cruised
all his life. A very intelligent dog who
learned anything very quickly.
He obeyed like a champ ... you only had
to show him once the boundaries!
He cruised the whole Caribbean and
the South Pacific.
Worked as second captain on a live-
aboard dive boat in the Caribbean
A true adventurer, he did scuba in a
hard hat at 10ft deep in Bora Bora and
he flew to 1000ft in ULM Aerochute in
Port Vila.
Despite his chronic heart failure, he
regained his vitality during his last 2
years when he was joined by Zenne.
He passed away in 2008 in Port Vila
and was buried at sea like a true sailor!
Zenne
was born late 2005 in Sydney suburbs
She joined Zoetje in Fiji in 2006 just in
time to sail to Vanuatu
She explored all of Vanuatu, Marshall
Islands, Micronesia and Indonesia.
She was cute, obedient and less timid
with age and experience.
She was carpet trained in just a few
hours on the boat, all by herself!
She left us mysteriously in Indonesiaoff
Ternate island ... we miss her a lot!
Zwetke
was born early 2010 in Australia.
He joined us in Vanuatu in time to cross
to the North Pacific and explore it.
He got along very well with Zenne.
He was a real tumbler ... he fell from the
boat or the dinghy so many times!
He loved water so much that he dove
after us when we swam behind the
boat! By luck he learned quickly how to
get up on the swim ladder and jump
back on deck!
He was a real character ... too sad he
got scared during some fireworks in
Raja Ampat and jumped overboard (we
guessed) to never be seen again :(
Zonne & Zotke
were born early 2015 in California and
Jackie brought them in her "suitcases "
to the Philippines. They adapted easily
to life aboard and protect us when
needed! They already brought us 3
adorable puppies for Xmas 2016:
Jimmy (m), Nera (f) & Baby (f).
A word to all dogs ... from Zoetje, our first Schipperke !
Welcome to you, fellow cruising dogs!
If you are cruising already, you know what fun it is!
All those new countries to discover and places to smell …
All those dogs to meet with their funny accents!
If you are not cruising yet …
Try to convince your masters that they will enjoy the cruising life too …
You will take care of the 'dog watch' …
You will bark if someone falls overboard ...
You will prevent intruders to sneak on board …
You will call them when you catch a fish trolling …
You will guide them on long hikes
You will be gracious when confined on board for short or long periods of time in those few 'unfriendly-towards us
four-legged' countries .
You will do your best to be quickly potty trained on Astroturf carpet on board!
You too will enjoy the cruising life :)
Cruising with Pets
The perfect crew during our voyage!
www.TropicalSailingLife.com © 2006-2017